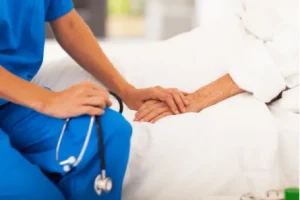 Overview:-
The surgery rooms are designed with the speed execution of surgery in mind, maintaining maximum infection control.
Field of Services: –
The surgical rooms are located on the first and third floors horizontally symmetrically with the sterilization department, so that they are connected by one elevator through which the tools are transferred "to and from the sterilization department" quickly, To ensure that the infection does not spread. 

The surgical room infrastructure is designed from the beginning with a system of Zero infection.

 There are two surgical departments (minor surgical department and major surgical department).
Minor surgical rooms:
Four rooms, these rooms are dedicated to dealing with the surgeries for uncomplicated burns that are not accompanied by fractures or other complications.
Major surgical rooms:
A large surgical room has been allocated whose area exceeds the required specifications, in which plastic surgeries, burn surgeries associated with complications, laparoscopic surgeries, etc. are performed.